Gift/Coffee shop
The gift shop at Dublinia stocks a wide range of great gift ideas.  We stock jewellery, postcards, childrens costumes and fun items for visitors to take home as a memento of their visit. We have a fantastic collection of books and gifts from the Viking and Medieval periods of Dublin and beyond for both adults and children.
Exciting News!
Excellent new book available – Dublin and the Viking World: Dublin and the Viking World is our fantastic new book to celebrate Dublinia's 25th birthday. Beautifully illustrated with photographs, drawings and new maps, 'Dublin and the Viking World' takes readers into the streets and homes of this important Viking town.
Our expert authors explore the acclaimed Dublinia exhibition experience and the latest in world class scholarship to show readers the real world of Viking Dublin.
Available from all bookshops and all online book retailers and of course in the Dublinia gift shop for €12.99.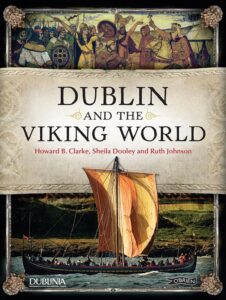 Gift Idea – The Story of Medieval Dublin: By Professor Howard Clarke, Sarah Dent and Ruth Johnson tells the story of Medieval Dublin based on the exhibitions at Dublinia.
Gift Idea – From Vikings to Tudors DVD Here you will discover the medieval secrets of Christ Church Cathedral, the daily life of monks at St. Mary's Abbey, the fortes of Kings that was Dublin Castle, see the medieval city defences grow from wooden fences to thick stone walls.
COFFEE SHOP
Our coffee shop is located at the top of our building overlooking the crossroads of the old city! Enjoy the view, and also our beautiful stained glassed window by Harry Clarke, all while enjoying a cup of tea/coffee or hot chocolate.  We also have a selection of cakes, biscuits, scones and confectionery.